About Youth Bowling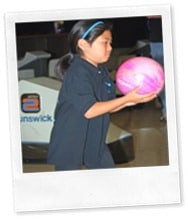 Youth bowling is alive and well in Orange County!
It's amazing to watch the talent level that youth bowlers in the county play at today. Youth programs throughout the county continue to hone the skills of the advanced bowlers, and novice bowlers are having fun and learning the fundamentals at the same time. From bumpers at Saddleback to Junior Gold at Yorba Linda, we have youth covered in Orange County!
There is no doubt that today's bumpers will be tomorrow's stars. Don't forget about the people that make it all happen for the youth bowlers. Dedicated youth directors and coaches are out there every weekend and many evenings giving their time to make sure that our youth bowlers continue to thrive at the county, state, and national levels. These coaches could be sitting home watching the Notre Dame vs. USC game, but instead they spend that time with youngsters working on that follow-thru or that five step approach, glancing at the TV in the lounge every half hour or so to catch the score. Volunteers are getting harder to find these days (the pay is no good), so be sure that you let your coaches know how much you appreciate their hard work and efforts!