News
News and Happening
May 4, 2023
Good Evening, All:
I am sad to inform you of the passing of veteran Orange County bowler and owner/operator of 10th Frame Pro Shop located inside Concourse Bowling Center, Anaheim, CA, Minh Nguyen, on April 24, 2023.
Minh was 41 years old.
He leaves, in addition to his extended family, his wife, Cendy, and five children.
The family has sent me funeral information as follows: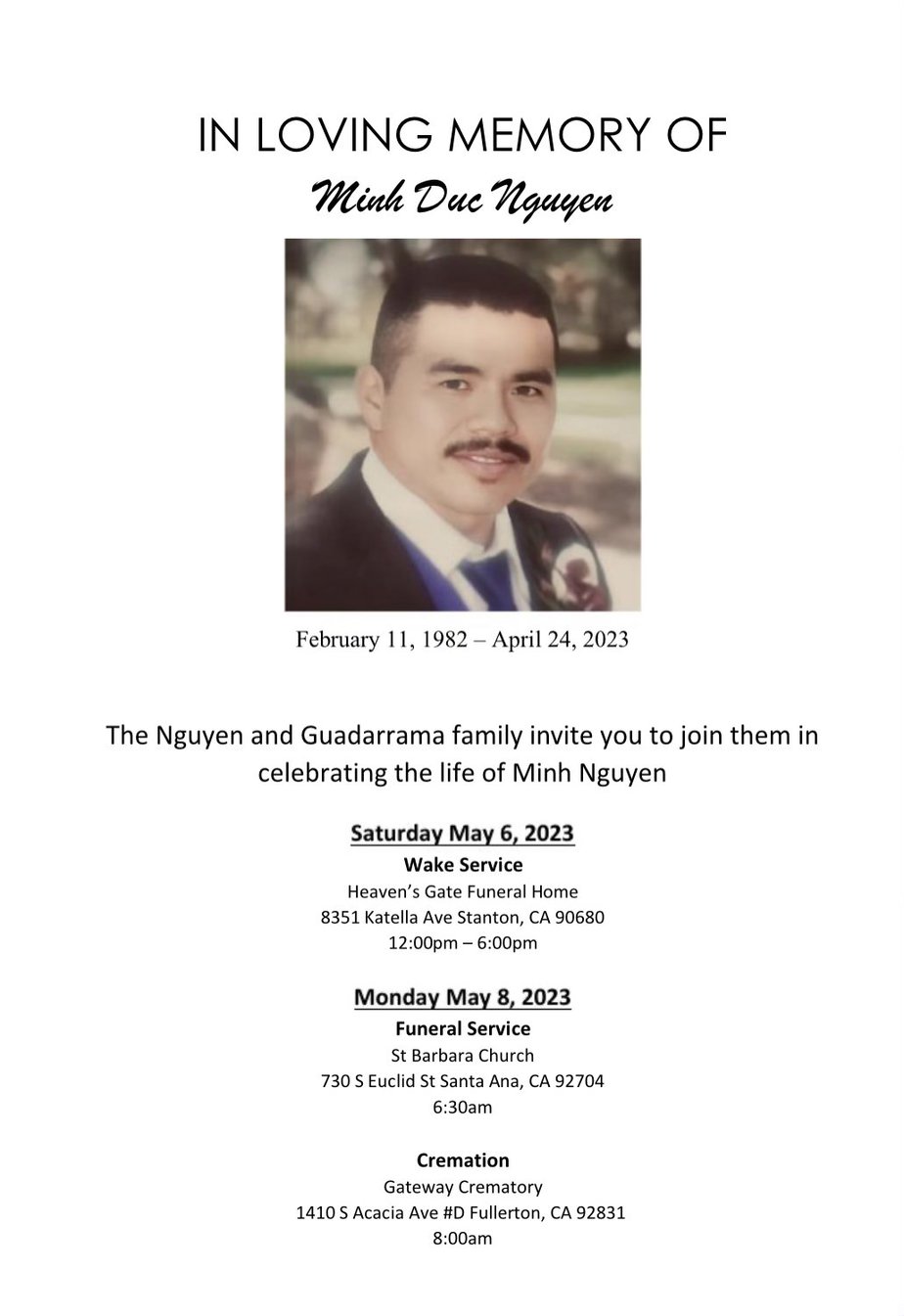 Additionally, Fountain Bowl will be hosting three tournament squads to raise funds for his family.
Those squads will be held:
Wednesday, May 17, 2023 at 7:30 PM
Friday, May 19, 2023 at 10 AM
Saturday, May 20, 2023 at 10 AM
Cost will be $30 person, with $22 going to the Nguyen family.
Gary
---
January 20, 2020
ORANGE COUNTY USBC ANNUAL
OPEN, WOMEN'S & YOUTH TOURNAMENT
by Joy McGregor
This extremely popular tournament is right around the corner…FEBRUARY 22 & 23, FEBRUARY 29 and MARCH 1, 2020. This year the host center is FOUNTAIN BOWL, 17110 BROOKHURST ST. FOUNTAIN VALLEY. The squad times both weekends is 9 AM and 1 PM. The cost to enter the Women's and Open division is $115 which covers team, doubles & singles and optional all events. The cost for the Youth is $90 which covers team and doubles & singles.
Guaranteed entry deadline is FEBRUARY 3, 2020. Walk-ins are welcome as space permits and credit cards are accepted by calling the office at 714/554-0111.
The handicap for Women is 90% of 220. The handicap for the Open is 90% of 230 and the Youth is 90% of 200. Please read ALL THE RULES as they are strictly adhered to. Please pay close attention to the DRESS CODE– no disqualifications!!
This is a great tournament for all Orange County bowlers and if you hold a current 2020 Orange County USBC card, guess what…you are eligible!
If you have any questions regarding the tournament, please contact the office at 714/554-0111 and get your entries in. The mailing address: OCUSBC, P.O. Box 4396, Garden Grove, Ca. 92842, hand-deliver: OCUSBC 13896 Harbor Blvd. #5-A, Garden Grove, Ca. 92843 or email entry: assnmgr@ocusbc.org. You may also download the entry form from our website: here. Whatever method you choose…get your entries in!!
See y'all on the lanes…